*Made in America
We manufacture our products right here in America, from the best American materials we can find. D&S custom-manufactures supplies to meet the fire industry's stringent requirements. We stand firmly behind the fit and quality of all of our products, and offer a 3-year limited warranty.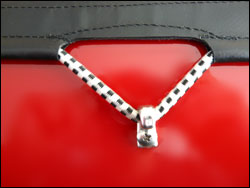 Patented Fastening System
Our "shock cord" system allows you quick-n-easy access to compartments in any weather condition and allows you to overload the hose bed without ripping the cover. Click here to learn more about our patented "shock cord" system.
Alternate Fastening Systems
These are additional fastening devices that we use to hold covers on your apparatus, and or in conjuction with our patented fastening system.
Click here to view our alternate fastening systems.
Strong, easy to install, and easy to use.
You only need a few tools to install any of our covers: a Phillips screw driver, 3/8'' open-end wrench, 5/32" drill bit, and a 10/24" tap. You should place blue "lock-tite" on the machine screw threads to help secure them. Also, our patented shock cord system allows for multiple fastening points because you can install hooks onto any of the 3" areas provided. This gives much freedom for hook positions, making installations on a wide variety of equipment even easier.
Quality. D&S installs an ISO Compliant Product
Designed to use with your gloves on, our product is made with the highest quality materials and is manufactured in facilities that are ISO/TS 16949 and ISO 9001 compliant. Why is ISO certification important to you? Just like NFPA establishes standards for the industry to follow, ISO establishes

manufacturing standards for products to be manufactured to. When quality matters, you'll want to feel & see the D&S difference. For your free sample, click here.
Limited downtime
Our mobile team saves your department precious downtime with on-site installation. Most jobs are completed within 3-hours.
Quick product turn around
Once we finalize your order we will produce and have your covers ready for shipment or installation within 3 weeks.
Worldwide Shipping
For clients like the Federal Government that have apparatus scattered throughout the world, we ship our covers to them to be installed by their personnel. Call or email us to learn how you can take advantage of this service.
Reseller program
If you are an OEM or dealer, we offer an attractive reseller program that puts pure profits in your pocket. Phone calls only please.
Custom seating
We offer new custom seating for custom applications.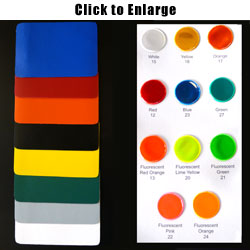 Color palette
Offering 8 different color palettes and 11 fluorescent colors, we give your department more unique ways to project a positive image, while securing hose and equipment.