Madison Fire Department

D & S Custom Covers
Before/After pictures of installed tail flaps on 2001 KME Engine- just received; and hosebed cover on 2003 ALF Engine previously purchased from D & S [Custom] Covers.

Thank you Dave!!! Wonderful purchasing experience.
Kevin M. Hall
Assistant Chief
Madison Fire Department
Madison, NC

USAG Fort Sill

D & S Custom Covers
Mr. Weyland,
...the cover goes around the grab handle perfectly....The department really appreciates the craftsmanship as the cover fits extremely well just as you said it would. We will definitely be ordering more from your company in the future.
David A. Brammer
Firefighter, DES/FES
USAG Fort Sill, OK

Reidsville Fire Department
D & S Custom Covers
Dave,
I attached a few pictures of E3 cover. We installed it today and it looks amazing!! It took about 2.5 hours and it was very straight forward. ...
Great job Dave!!
Thank You!!
Regards,
Eric Preble
Engineer/EMT
Reidsville Fire Dept
Reidsville, NC

City of Lowell, MA Fire Department
D & S Custom Covers
Dave Weyland

Hi Dave,
It's been a few months since I purchased a new hose bed curtain for one of my departments engine company from you. I wanted to take the time to thank you for the help of designing it and making it. The entire engine company loves the new cover/curtain and its durability does a great job protecting the hose and hose bed from the harsh New England weather.
Again, thank you for all your help and I look forward to contacting you again in the spring for another project consisting of a cross lay cover.
Thanks,
Ben Ratty
City of Lowell, MA Fire Department
Hudson Valley Fire Equipment, LLC
D & S Custom Covers
Dave Weyland

Dear Dave,
Hudson Valley Fire Equipment (HVFE) would like to thank you for your excellent service and quality hose bed covers. HVFE has been doing business with D & S since 2012 and will continue our business relationship into the future.
We greatly appreciate the level of skill, craftsmanship and quality produced by D & S as much as the communication and diligent work it takes to produce the hose bed covers D & S provides. D & S has a great line of products to produce a cover for just about anything. Dave has a wealth of knowledge regarding the covers and all the integral parts to produce them, along with the knowledge of the individual apparatus themselves to ensure a great fit.
D & S provides a quality product and seamless communication to HVFE which in turn allows us to serve and provide the fire service and their municipalities.
Thank you,
Ellen Warner and Santo Curro
Hudson Valley Fire Equipment, LLC
Mid-South Emergency Equipment
D & S Custom Covers
Dave,
Absolutely the "BEST" hose bed covers and cargo netting we have ever had. Thanks for providing a durable product!!
Jeremy Hobbs, Fire Chief
Wilson County EMA
Dave,
Thank you (and your crew) for building such an awesome cover!!!
Regards,
Ken Ezell
Mid-South Emergency Equipment
Murfreesboro, TN
E-One Fire Apparatus
and Equipment Sales
Campbell Supply Co.
D & S Custom Covers
Good Afternoon Dave,
I wanted to take a minute and say thanks for the excellent workmanship of the covers you just made for us. Not only are they the high quality we have come to expect, the chevron panel you did matched up perfectly to the truck.

We could not have asked for anything better! I'm sure the customer will be very pleased with how they came out.
John Thompson
Service Technician
Campbell Supply Co.
South Brunswick, NJ
LADDER 3, City of Dalton
D & S Custom Covers
Dear Sir,
Our latest purchase from D and S was a rebuild of a cover previously built by them. The new cover had some adjustments made to reinforce problem areas on the previous cover which was 7 years old. Dave was very helpful to make sure we got exactly what we needed. We added lettering to the cover which we were very nervous about because we didn't know exactly what the finished product was going to look like. With this lettering we would have displayed to the public and the guys on our truck from the other two shifts knowing and critiquing that "A Shift" picked it out. We owe a big thanks to Dave because his team went above and beyond our expectations in making this cover look good, and in turn making us look good. Thanks again D & S!
A Shift
LADDER 3
City of Dalton
Georgia
Homewood Fire and Rescue
D & S Custom Covers
Dave,
On behalf of Chief Anastasia and myself, I wanted to let you know once again you have delivered an amazing product to Homewood Fire & Rescue. The custom covers for the new Engine 1 are perfect and you can tell they were made with close attention to detail.
We appreciate you working diligently with us and delivering in a timely manner. We look forward to working with you and your company again soon.
Respectfully,
Lieutenant Charlie Boyd
Homewood Fire Department
D & S Custom Covers
Dear Sir,
We have utilized your company and custom work for close to eight years. We are located a considerable distance from you. Having a hosebed cover made in Pennsylvania, when you are from Alabama, did not seem practical. I will say at this point, it has been the best thing we have done in relation to the acquisition of hosebed and crosslay convers/restraints. We have also been very pleased with the other custom products we have since tried from your organization.
For years, we accepted that the lifespan of our hosebed covers would be short. They would become ragged, dirty, faded, and have failed stitching. We have found out differently with your products. The level of material and workmanship is excellent. I have hosebed covers that are eight years old and still look very good. We retrofitted all of our units some time ago to be compliant with the NFPA's hose restraint recommendations. We are very pleased with the results. The fasteners, elastic, and weights have all performed excellent.
In addition, we have some custom specialty trailers with internal compartmentalization. We wanted to custom design the interior storage where we could easily access and maintain a considerable amount of equipment for several different applications. We also wanted these to be semi-visible and well ventilated. The cutout design we used on one and the "screen" style on another have performed extremely well. Thank you for providing the level of service and quality of product that we have always received from you.
B C Anastasia
Homewood Fire and Rescue
Forbush Fire Department
I would like to thank you and your company for the professional looking covers we received. You have been great to work with, and have assisted us well after the sale. Your covers will last our department many years to come. If you ever need to send someone by or station to look at your product, please call. You will come highly recommended. If you need completed pictures just let me know.
Thanks,
Captain Barry McLean
Forbush Fire Department
Yadkinville, NC
Garrison Fire & Rescue Corp.
Thought you would want to see these - before and afters of the hosebed and front bumper covers we recently installed. Customer is very happy.
Thanks,
Aden P. Hughes
Garrison Fire & Rescue Corp.
---
Madison Fire Department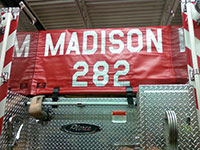 Dave I would like to thank you and your company for the great work that you all have done on our two hose bed covers they fit great and look great.
Thanks,
Capt. W.J. Linville III
Madison Fire Department
Madison, West Virginia
Commerce Fire Department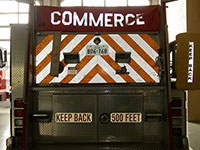 We are very pleased with the finished product. The quality, fit, and lettering were the best I've seen. We got the cover in the time frame you promised, your company was a pleasure to deal with and I would not hesitate to recommend DS custom covers to other fire departments.
Thanks again!
Jack Berni
Fire Chief
Commerce Fire Department
Commerce Tx.
Whispering Pines Volunteer Fire Department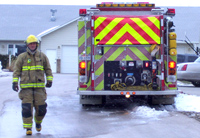 A number of years ago, we decided to take steps to improve our firefighters' safety on incidents. Part of our initiative included having 6-inch wide Chevron Stripping added to the rear of our apparatus - including the hosebed cover of our structure engine. After researching options, we elected to have D&S Custom Covers retrofit our existing hosebed cover. Dave Weyand, worked with us over the phone so we could take the needed measurements, and options for fastening the cover. With some trepidation (since we've never worked with Dave, nor had Fire Departments we knew), we shipped off our cover to Dave. Approximately 12 days later the retrofitted cover came back completed, and exceeded our expectations. However, we wanted to see how it performed over time, on incidents, in various light and weather conditions.
Over the past 3 years, this D&S Custom Cover has really improved the visibility of our structure engine; in daylight, night time, fog, rain, and snowing conditions. There is never any question as to whether drivers approaching the rear of our engine see us. We've had many citizens in our District comment on how visible our vehicles are now.
Thanks Dave for helping us improve our firefighters' safety, and providing us with a great product and service.
Stephen Keegan, Assistant Fire Chief
Whispering Pines Volunteer Fire Department
Rapid City, South Dakota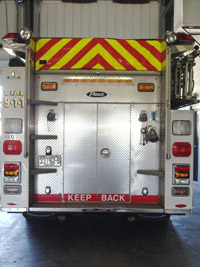 Oakland Fire Department
Dave, we have received and installed both covers. They look great and fit perfectly. Thanks so much for manufacturing a quality product. We will recommend your company to anyone and will request your cover on any future apparatus purchases.
Ray Wells
Assistant Chief
Oakland Fire
Stafford Fire Department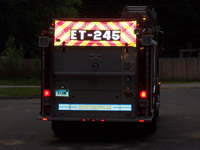 The install went great, very easy to do. And the covers look great. The membership is very happy with the product. I have attached a few pictures of the covers installed. They reflective will make the back of the truck more visible.
David Lucia
Chief
Stafford Fire Deptartment
Norfolk Fire-Rescue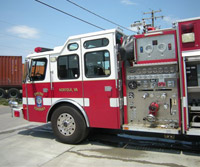 Currently, Norfolk Fire-Rescue has twelve of our engines equipped with D&S Custom hose bed covers and are very pleased with the quality of work by D&S Custom Covers. We sent the measurements to them and were able to receive a proper fitting hose bed cover with no problem at all. It's been a pleasure dealing with Dave and staff there at D&S Custom Covers and as the time comes for the replacements on the rest of our engines we look forward to working with them again.
John Humphrey
Battalion Chief
Capital Assets/Logistics
Norfolk Fire-Rescue
Shrewsbury Volunteer Fire Company
The Shrewsbury Volunteer Fire Company recently purchased a custom hose bed cover, from D&S Custom Covers, for our 1994 Spartan Pumper's hose bed . Everything went smoothly from start to finish. Dave came out and measured the hose bed and was very knowledgeable. The cover looks very good with the Engine number on the back and the reflective chevrons increase the visibility of the unit. We are very satisfied with the hose bed cover and will continue to use D&S Custom Covers in the future.
Paul Anthony
Chief Engineer
Shrewsbury Volunteer Fire Company
Kaleden Fire Department
Hi Dave
We have installed the two hose bed covers you made for our two Engines. I would like to thank you and your people for your excellent interest in helping this department provide safety to our fire trucks. Your attention to details in fitting the covers to our trucks is what made the covers fit so well. They are very easy to remove and after road testing them for the wind they hold with not problems.
Thank you so much.
Darlene Bailey
Fire Chief
Kaleden Fire Department
British Columbia, Canada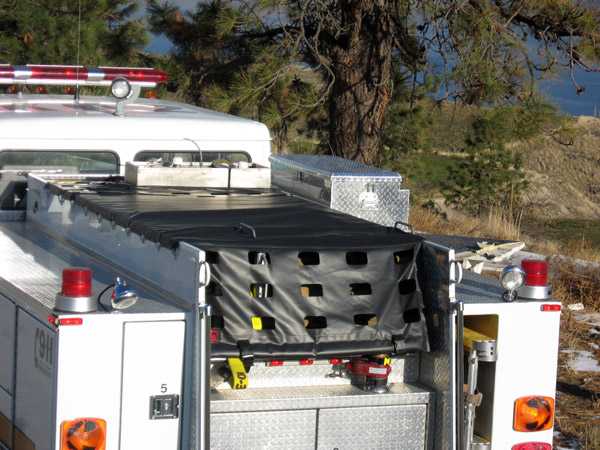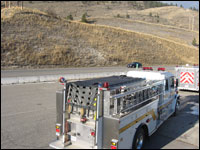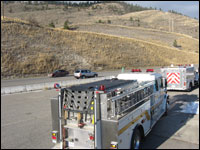 Norriton Fire Engine Company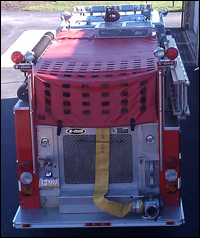 The Norriton Fire Engine Co has been extremely satisfied with the top quality, professionalism and prompt service of D&S custom covers. We have had several truly custom covers made as well as the standard crosslay, tarp, and tray covers. On our Engine we needed a tarp which allowed air flow for the rear engine compartment. Dave and his staff split a cover to be solid over the hose and vented over the engine. While designing our new tower we chose to delete the manufactures aluminum bumper box cover. D&S made a truly one of a kind cover for our bumper mounted high rise packs which allowed us to maximize the hose storage. On our foam trailer we had covers made to increase rear visibility and secure the storage. I have had nothing but positive, prompt and professional service from Dave and his staff.
Thank you for a job well done.
Derek B. Thomas
Assistant Chief Engineer
Norriton Fire Engine Company
East Norriton, PA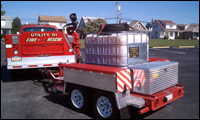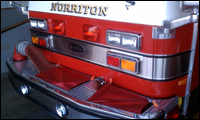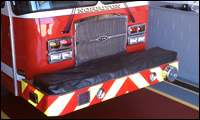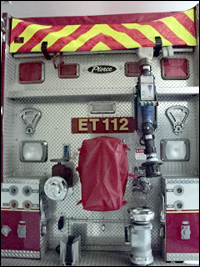 Dave, thanks for a really nice job on the tarp and the dump valve cover. They both look sharp. The guys did a great job on the install. The humat valve straps were also right on. We will definitely be using your company for our future needs.
Don Yingling
Harney Volunteer Fire Company
Carroll County, MD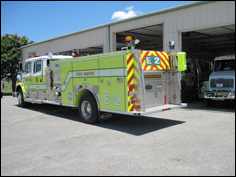 Just a line to tell how much we enjoy the covers you made for Engine 2. I don't know how you did it but they fit like a glove and really light up the rear end of the engine.

Don Richmond
Weir VFD
We belong to the Boeing Fire Department, operating out of the Huntington Beach Facility and we recently purchased two covers from D&S Custom Covers. We got the tarp for the rear hose bed and a crosslay cover with the rip cord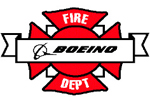 securing system. The rip cord system makes it very easy to remove the covers when laying and loading hose. Dave provided excellent service and guidance to us and within a couple of weeks we had our covers. We actually got them before the time he stated! They look great and we are very happy!

Scott Pilon
Firefighter
Boeing Fire Department
Huntington Beach, CA

Wellsville Fire Co.
We recently purchased two covers from D&S Custom Covers. One for our Engine with the bow system, and the other was a custom cover for our Rescue. Everything went smoothly from start to finish. Dave was extremely patient and knowledgeable. The covers look very durable and made of high quality materials. The amazing part of this project was from the initial call and pictures, to the install was just a few short weeks! We are very satisfied with everything and will continue to use D&S Custom Covers in the future for all of our trucks. Thank you for everything!

Andrew Hood
Wellsville Fire Co.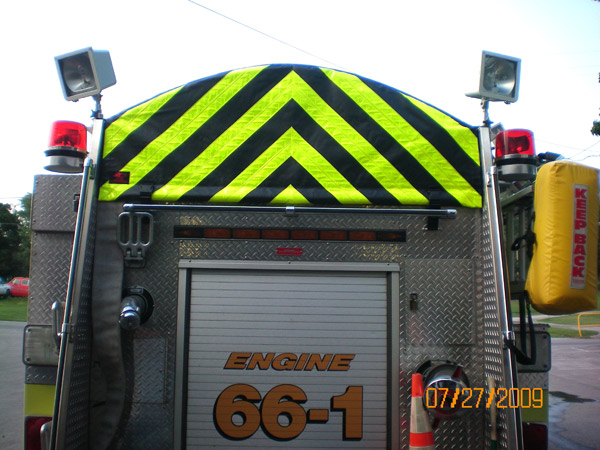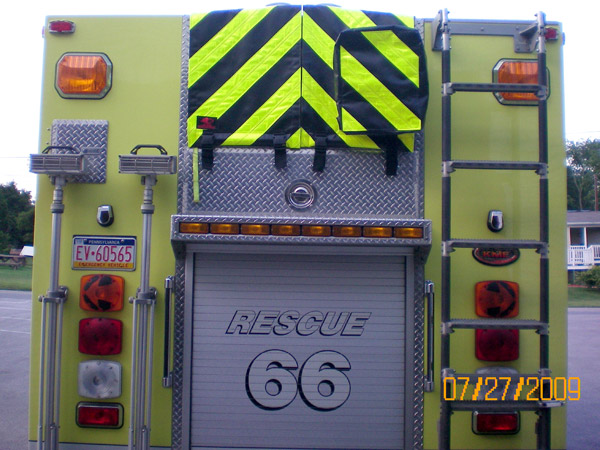 Woodstock Fire Department Inc.
The Woodstock Fire Department Inc., Woodstock, Virginia had sent Dave and the staff at D&S Custom Covers an older hosebed cover, off our 1996 Engine, to have it repaired and add the chevron striping to the rear flap. After comparing repair cost and replacement cost we chose to have a replacement made. After placing the new hosebed cover on the engine we all noticed the quality in material and workmanship, plus the fit and finish was superb. We couldn't ask for a better job.
At the next department meeting, after looking over D & S's cost estimate for a second cover, the membership decided to have a new hosebed cover made for our 1990 Seagrave. Again the workmanship and quality was superb. An above all, both jobs came in under budget.
A D & S Custom hosebed cover will be required the next time the Woodstock Fire Department purchase's fire apparatus.
Phil Hottel
Captain
Woodstock Fire Department Inc.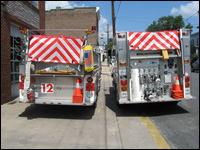 Glick Fire Equipment Co.
Our experiences with D&S have been extremely positive. Dave and his staff are all knowledgeable about their custom product and working with them is effortless.
The materials used for the covers are extremely durable and because we have so many variations on fire apparatus, the fit is tailored for any application. The fastening system is unique and simple to use with a gloved hand and in our opinion, it works better than any other fastening devices on the market.
We will continue to recommend D&S to all of our customers, in addition to Pierce dealers nationwide.


Doug Glick
President
Glick Fire Equipment Co.

Lyn-Dan Heights VFD
Recently the Lyn-Dan Heights VFD replaced their 2001 Pierce Contender's hose bed cover with a new chevron striped cover manufactured by D&S Custom Covers.
Dave and the rest of the staff were very helpful and easy to work with in making this change to our engine. The cover was well constructed of high quality materials and installed identical to the original cover. The cover has the added feature of buckled straps to help hold the cover flat and secure. Even though our engine is not required to have chevrons on the rear, to be compliant with the newest version of NFPA 1901, our department puts the safety of its members first.
These chevrons will help make the engine more visible when responding to emergencies as well as on scene. Company 15 is a strong supporter of the motto "Everyone Goes Home."
Edwin Hall
Deputy Chief
Lyn-Dan Heights VFD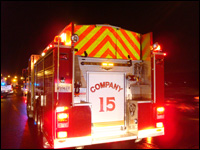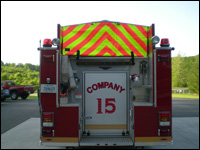 Shane Countryman, SrA, USAF
"Just wanted to show my appreciation for the great quality of work and speedy turnaround of the hose bed covers. Everyone is very impressed and pleased. We will recommend your product for local stations and friends. Thanks for all your work."
Shane Countryman, SrA, USAF
Driver Operator, Fire and Emergency Services
1 SOCES/CEF, Hurlburt Field, FL
Hudson fire Department
"First off, we would like to thank Dave and his team for the professional and fast service that he provided. When we first started looking into having a hose bed cover for our front line pumper the prices we got were outrageous. We contacted D&S Custom Covers and spoke with Dave. We had to take a few measurements, which Dave walked us through, and within a few days he gave us a price. We received the covers a few weeks later. With very little effort 3 guys had the cover installed within a few hours. Our station prides ourselves on the look of our trucks but even more important to us is how our apparatus performs in the time of need. We have deployed our 5" LDH hose several times since the installation of the cover and it works flawlessly. One of the best pay offs for us is the fact that now our hose is protected from the snow, salt, and sun. We have also received several positive comments from our neighbouring departments on the appearance of our truck. D&S Custom Covers Was a pleasure to work with and we have since ordered the same style of cover for our pumper tanker."
Adrian Bonnemayers
Hudson fire Department
Quebec, Canada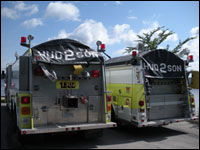 Fallston Vol. Fire Company
"I was impressed with the quality of the hose bed covers, as well as the customer service. Our company purchased three covers; one for our engine, our rescue engine, and our mini pumper."
Tony Petralia
Fallston Vol. Fire Company
Harford Co. Maryland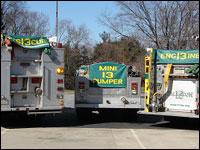 North Brookfield Fire Department
"The cover fit great, exactly as we expected it to fit. It looks great and was much easier than we thought to install. We didn't push it and were done in less than 3 hours."
Jim McFadden
Commissioner
North Brookfield Fire Department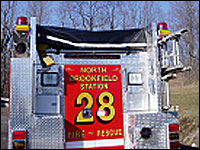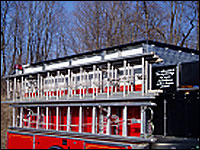 Kaza Fire
"We are very pleased with the quality, workmanship and responsive service D&S Custom Covers provides. The durability of their product has exceeded many of our previous supplier's products and our customers are always pleased with the end result. If you need high quality custom covers and restraints that meet or exceed current NFPA standards, D&S Custom Covers should be your first call."
Andy Kaza, Owner
Kaza Fire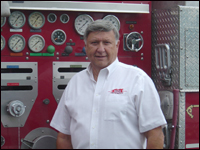 JW Carney Inc.
"Dave, just a note to let you know how pleased we and the fire department were after installing the cover you "re-engineered" for us recently. Picture "Tarp 1" shows the "other guy's" cover as received from the competition and picture "TARP 6" shows the cover after it went through your shop. Thank you for fixing the poor fit, reinforced the strength, lettering and installing on the truck.
Rest assured that the trucks we order in the future will all be equipped with D&S Custom Covers!"
Justin Genter - Apparatus Sales
JW Carney Inc.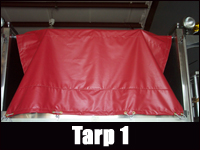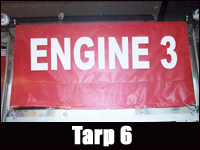 Yoe Fire Company, Yoe, PA
Learn how the Line Officers of Yoe Fire Company, Yoe, PA, used email and a phone call to build two NFPA compliant hosebed covers. Read the complete testimonial here.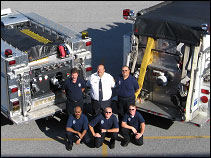 Gene A. Spotts, Fire Chief, Shartlesville Community Fire Co. # 1
The design and workmanship of these covers is second to none. Our order was delivered and installed within the time promised. We were so pleased with our original three covers that we ordered two more and highly recommended D&S to our neighboring departments, of which one ordered covers for four of their units!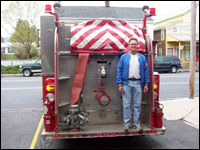 President Matt Powell, Punxsutawney Fire Department
While most customers select us for our strength and customer service, President Matt Powell, at the Punxsutawney Fire Department, appreciated that our covers helped eliminate mildew and stink. Read his complete testimonial here.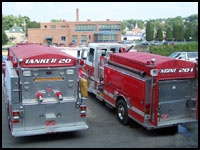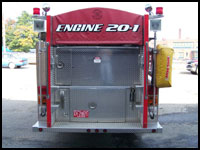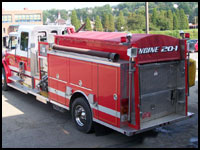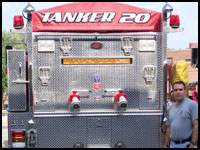 Philadelphia FD
We recently created and installed hose bed covers on 68 frontline and reserve pumpers for the Philadelphia Fire Department. See the images of the Philadelphia Job.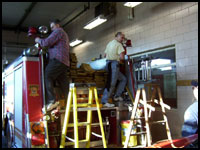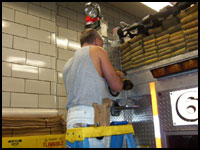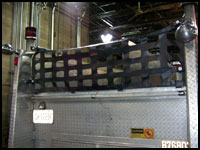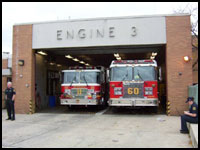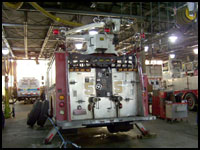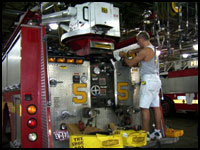 Tom Cramer-Captain
Our department responded to a mutual aid alarm. The hydrant man charged the line without realizing we had 1400 feet left in the hose bed that was covered by a D&S tarp. The line tarp raised approximately 2 feet above the hose bed rails and did not tear, get distorted, or break any hooks. Since that time, we have purchased two more tarps for our engines.