We at D&S Custom Covers have designed and manufactured our own custom fastening systems that have been battle-tested for years, in order to offer you the most durable and weather-resistant product available on the market.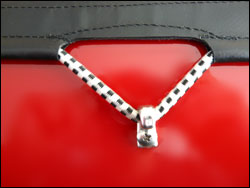 Patented Fastening System
Our "shock cord" system allows you quick-n-easy access to compartments in any weather condition and allows you to overload the hose bed without ripping the cover. Click here to learn more about our patented "shock cord" system.
Custom Fastening Systems
We don't just offer standard off-the-shelf fasteners. We can design and manufacture custom fastening systems for any special purpose, for any project.
Alternate Fastening Systems
There are additional fastening devices that we use to hold covers on your apparatus, and or in conjuction with our patented fastening system.